we offer great parties!
Whether you are looking for a birthday party for 20, 50 or even more guests, we can accommodate your group. Why have your party at Hot Wheels?
It's FUN!
Roller skating parties are family and budget friendly. We even offer "skate mates" for our skaters who are learning.
It's super easy to organize! We offer different packages to accomidate your party needs.
Weather is never a problem at Hot Wheels! Rain, shine, snow, heat....we are OPEN!
We do all the set up and clean up.
We have a large 21,000 sq. ft. building and over 700 pairs of rental skates. In addition, we have arcade games, so there is plenty of room and something to do for everyone.
Every package includes skating, drinks, invitations, paper goods and a FREE 30 day returning skate pass for the birthday child It's simple, all you have to bring the kids and the cake!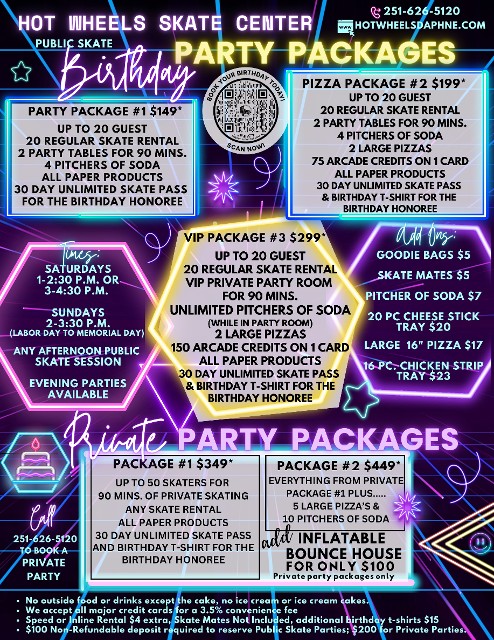 We offer printed invitations ready at Hot Wheels, but if you perfer to print your own invations, please click on the link below: Please make sure you have already scheduled your party, party times do fill up quickly. Hot Wheels Birthday Party Invitations
Are you ready to reserve your party now? Why wait? We offer online booking so you can do it now! (Due to the time sensitivity of our private parties, you must call to reserve.)